Children of Bassac Cambodia
July 5th, 2011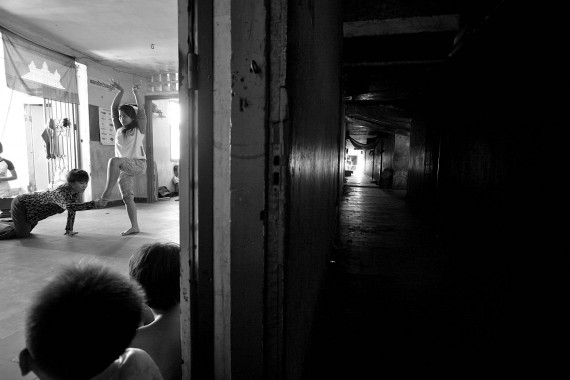 At the Bassac area, in Phnom Penh's center, the « building » is a block well known to be a place where drug addicts, prostitution and the fringe elements of society have settled. Inside this dilapidated and gloomy atmosphere, every evening, 52 children attend a classical and traditional dance lessons given by 4 teachers from the Royal University of Fine Arts and lead by Master Ieng Sithul. This famous Cambodian artist  set up an association in 2002 because he « didn't want the children living in there to waste their time and become lost sheeps ». Then, he rented an apartment on the third floor of the building and invited children to come and try dancing and singing. The first years were tough. « The children were very motivated but it was difficult for them to quit sniffing glue », says Master Ieng Sithul.
Few years later, they would start to perform during weddings, at restaurants and in different provinces of the country.
In 2008, the discipline, the perseverance and the high level quality of the training beared its fruits : the dancers of the slums were invited to perform at WOMAD festival (World Music, Arts and dance), the largest global gathering of artists amongst the UK-festivals, taking place in July in England . From there they traveled north to Scotland where they performed for one month at the  Edinburgh Frindge festival.
For the first time of their life, the dancers are about to travel away from their land and the excitement can be heard in Hou Chey Chanrith's words, a 21 year old dancer : « I'm counting down the day ! It's a huge honour for me to stand for Khmer arts and perform abroad. »
Pictures have been taken between 2005 and 2010. The gallery description uses some extracts and quotes from 2 reportages made in collaboration with the french weekly newspaper Cambodge Soir Hebdo (first on July 17th-23rd 2008 and second on September 11th-17th 2008), both written by  journalist, Ung Changsophea.
Leave a Reply
You must be logged in to post a comment.