Lagon fishing – east coast Madagascar
October 24th, 2015
 Published in 2011 in "Marine Policy", a report called : "Unreported fishing, hungry people and political turmoil: the recipe for a food security crisis in Madagascar?" by Frederich Le Manach, from Plymouth University, concluded : "given the heavy reliance on marine resources for fundamental food security, mainly through small-scale fisheries, in a country with few if any livelihood alternatives, it is suggested that sustainable small-scale fisheries can be viewed as a human-rights issue and should be given precedence over export-oriented commercial or foreign access fisheries."
Scientific and researchers carry on publishing alarming reports, politician carry on to ignore them.
During this time, Palilou and Patou come "each day that life gives" in Mahela's lagon next to Manompana village in order to fish what is left.
Using a net, a harpoon and a mask, Palilou and Patou, coming from Analandrafia village, stride along the lagon. They lay the net at different places during hours.
While Palilo spreads the net over the coral, Patou launches small rocks, strikes the sea with his arms, swim to scare the fish and direct them towards the net.
Fish catch are usually small. Just enough to survive. Both men recognize that diminishing quantities are caught each year.
They move forward with their net and trample the corals. They know it is destructive. They break an essential element of this ecosystem. Both are illiterate but they have a knowledge of the environment acquired listening to elders and due to hours of practice. But as they say: "What else can we do to feed our family?"
Spotted in its den, an octopus has been dislodged.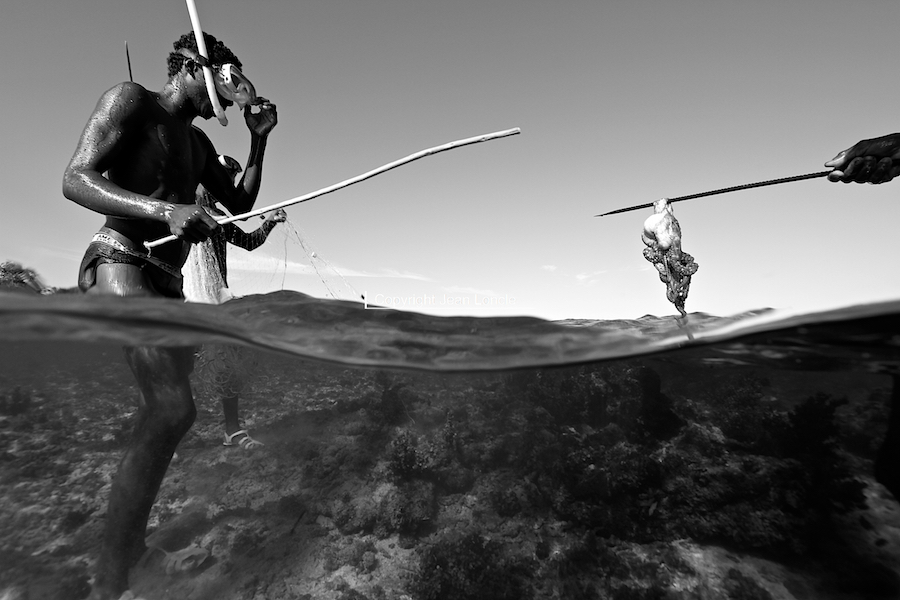 Another octopus cowers at the tip of the harpoon (right). This is a juvenile but it will not be released. The environmental conservation and hunger are not compatible.
* : "Unreported fishing, hungry people and political turmoil: the recipe for a food security crisis in Madagascar?"
Frédéric Le Manach : Faculty of Science and Technology, University of Plymouth, Drake Circus, Plymouth PL4 8AA, United Kingdom.
Charlotte Gough, Alasdair Harris and Frances Humber : Blue Ventures Conservation, Aberdeen Centre, London, N5 2EA, United Kingdom.
Sarah Harper  and Dirk Zeller : Sea Around Us Project, Fisheries Centre, University of British Columbia, 2202 Main Mall, Vancouver, Canada V6T 1Z4.